John Baker Plumbing & Utilities is a full-service Plumbing and On-Site Utility company licensed in North Carolina, South Carolina, and Virginia.
For over 30-years we have helped build medium and large projects across the Mid-Atlantic Region with a track record of quality of work and completion rate that is second to none!
If you are looking for a plumbing or utility job done well, follow the lead of the area's best contractors and choose "Quality through Experience", choose John Baker Plumbing & Utilities.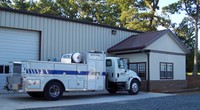 Our Service Truck "Mad Max" at the Home
In Memory of Mike Holcomb 1949-2007 "He will be missed"